Top Rated Termite Control Services For Homes & Businesses In Washington DC
Miche Pest Control is a top rated, family owned and operated, full service pest control company that provides termite control services for homes and businesses in Washington DC and the surrounding areas. Our expert technicians get rid of termite infestations quickly using combinations of highly effective pest management strategies to both eliminate existing termites and prevent their return. Miche Pest Control has a 4.9 star rating and over 1,000 reviews online - call today!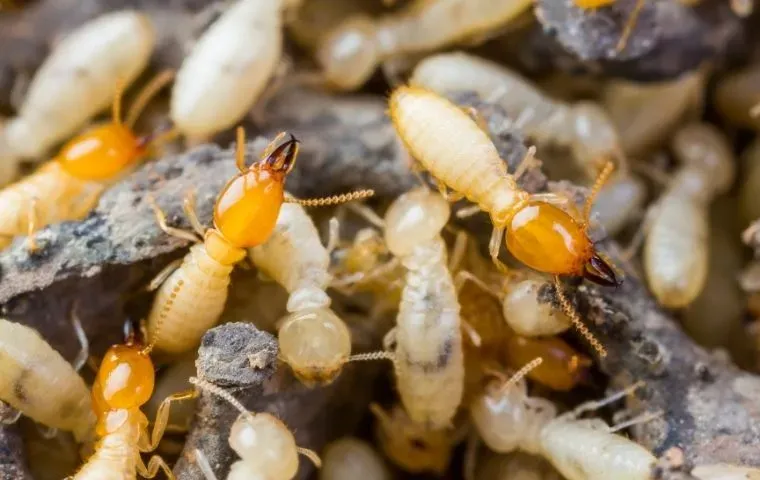 Can Termite Damage In Washington DC Be Avoided?
Termites are widely-known for being destructive pests that can eat through the wooden structure of your property. These small, wood-eating pests are of the most common wood-destroying organisms found in the United States, which is why it's important to implement prevention measures around your Washington DC property to avoid attracting termites. Use these helpful termite prevention tips to keep termites away from your home or business:
Minimize moisture around your property by clearing debris out of your gutters, removing water-damaged wood, and fixing leaky pipes.
Get rid of logs, stumps, fallen trees, and other decaying wooden materials that could attract termites.
Find and seal all potential entry points around your foundation, doors, and windows.
If termites are causing problems in or around your Washington DC property, the professionals here at Miche Pest Control are ready to help. Get in touch with us today to ask for more details about our termite control process.
Guide To Preventing Termites In Your Washington DC Home
Termites are destructive intruders that burrow deep into damaged and rotting wood. They build nests and grow their colonies until there is a large-scale infestation, and the structural integrity of your home is completely destroyed. Consider the following preventative measures when it comes to effective termite control:
Eliminate any wood to soil contact.
Fix downspouts to extend further away from the house.
Install a dehumidifier in moisture-rich areas of the house.
Keep wood away from the perimeter of your house.
Put vent fans in kitchens, bathrooms, and laundry rooms.
Reduce moisture around the entire property.
Remove any rotting or damaged wood.
Repair leaky faucets and pipes.
Thoroughly check all wood before bringing it into your home.
Use loose mortar or weather stripping around the windows and doors.
The best way to protect your home from the nightmare of termite damage is to call in the experts. Here at Miche Pest Control, we provide complete termite control and prevention services that Washington DC property owners can trust. Call us today for a complimentary estimate on our termite control services!
Request Your Free Quote
Complete the form below to request your no obligation quote.
Washington DC
Washington DC, formally the District of Columbia and also known as DC or just Washington, is the capital city of the United States of America. It is located on the Potomac River bordering Maryland and Virginia, with Congress holding its first session there in 1800. The city was named for George Washington, the first president of the United States and a Founding Father, and the federal district is named after Columbia, a female personification of the nation. As the seat of the US federal government and several international organizations, the city is an important world political capital. It is one of the most visited cities in the US, with over 20 million visitors in 2016.
The US Constitution provided for a federal district under the exclusive jurisdiction of US Congress; the district is therefore not a part of any U.S. state. The signing of the Residence Act on July 16, 1790, approved the creation of a capital district located along the Potomac River near the country's East Coast. The City of Washington was founded in 1791 to serve as the national capital. In 1801, the land, formerly part of Maryland and Virginia (including the settlements of Georgetown and Alexandria), officially became recognized as the federal district. In 1846, Congress returned the land originally ceded by Virginia, including the city of Alexandria; in 1871, it created a single municipal government for the remaining portion of the district.
The city is divided into quadrants centered on the Capitol Building, and there are as many as 131 neighborhoods. It is the 20th-most populous city in the US. Commuters from the surrounding Maryland and Virginia suburbs raise the city's daytime population to more than one million during the workweek. Washington's metropolitan area is the country's sixth-largest metropolitan area, and includes parts of Maryland, Virginia and West Virginia.