Top Rated Mosquito Control Services For Homes & Businesses In Washington DC
Miche Pest Control is a top rated, family owned and operated, full service pest control company that provides mosquito control services for homes and businesses in Washington DC and the surrounding areas. Our expert technicians get rid of mosquito infestations quickly using combinations of highly effective pest management strategies to both eliminate existing mosquitoes and prevent their return. Miche Pest Control has a 4.9 star rating and over 1,000 reviews online - call today!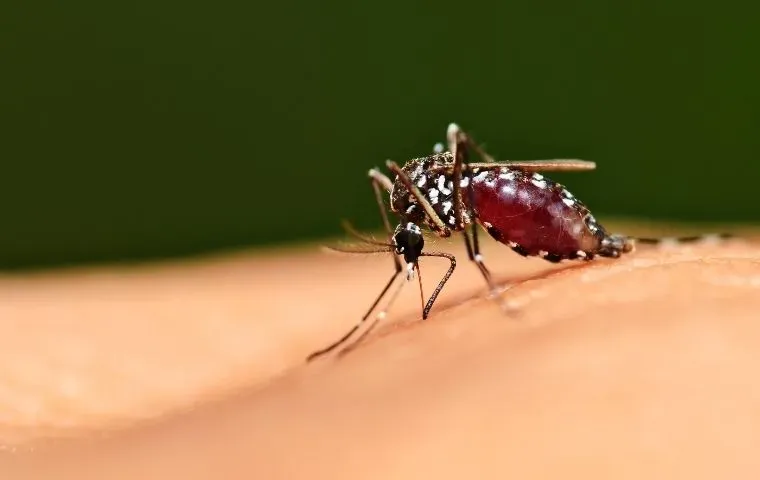 Are Mosquitoes In Washington DC Dangerous?
No matter where you live, mosquitoes are common pests that become active as soon as warmer weather arrives. These small, fly-like insects thrive in warm, humid weather and are among the most annoying pests to invade properties in Washington DC. Mosquitoes are known for ruining outdoor gatherings and special events by buzzing around your face and leaving itchy red welts across your skin. Unfortunately, mosquitoes are more than a simple nuisance; they're dangerous. Each year, more than 700 million people contract mosquito-borne diseases, and of them, about one million cases are fatal. A few of the diseases that mosquitoes spread include dengue, yellow fever, malaria, West Nile virus, Zika virus, chikungunya, western equine encephalitis, eastern equine encephalitis, La Crosse encephalitis, and many more.
If mosquitoes are causing problems around your home or business in Washington DC, the professionals at Miche Pest Control can help. Our goal is to provide long-term solutions for pest problems of all shapes and sizes. Our mosquito control services eliminate mosquitoes currently living on your property and reduce areas where mosquitoes can breed and lay eggs. Reach out to Miche Pest Control today to learn more about our mosquito treatments.
Get Mosquito Control In Washington DC
Three Ways To Avoid Mosquitoes In Washington DC
Mosquitoes are nuisances, yes – but they are also quite dangerous. As vector-pests, they pick up and transmit diseases between hosts, which puts you in harm's way. There are so many mosquito-borne illnesses to think about, which is why being diligent in your prevention efforts is so important. Here are three tips to help you minimize your exposure to mosquitoes:
Use insect repellent when spending time outdoors. You should also consider wearing long pants and long sleeves when possible, and wear permethrin or DEET treated clothing.
Eliminate sources of standing water around your property, including birdbaths, pets' water bowls, tires, buckets, etc. Mosquitoes breed in water, so minimizing it is important.
Keep windows and doors closed when possible. Also, install or repair window and door screens to effectively prevent entry and easy access inside.
The most effective form of mosquito control and prevention is regular services from the pest experts. Miche Pest Control gives property owners the protection they deserve to live comfortably, safely, and totally pest-free. Reach out to us today to discuss your mosquito control needs and we'll get started right away.
Request Your Free Quote
Complete the form below to request your no obligation quote.
Washington DC
Washington DC, formally the District of Columbia and also known as DC or just Washington, is the capital city of the United States of America. It is located on the Potomac River bordering Maryland and Virginia, with Congress holding its first session there in 1800. The city was named for George Washington, the first president of the United States and a Founding Father, and the federal district is named after Columbia, a female personification of the nation. As the seat of the US federal government and several international organizations, the city is an important world political capital. It is one of the most visited cities in the US, with over 20 million visitors in 2016.
The US Constitution provided for a federal district under the exclusive jurisdiction of US Congress; the district is therefore not a part of any U.S. state. The signing of the Residence Act on July 16, 1790, approved the creation of a capital district located along the Potomac River near the country's East Coast. The City of Washington was founded in 1791 to serve as the national capital. In 1801, the land, formerly part of Maryland and Virginia (including the settlements of Georgetown and Alexandria), officially became recognized as the federal district. In 1846, Congress returned the land originally ceded by Virginia, including the city of Alexandria; in 1871, it created a single municipal government for the remaining portion of the district.
The city is divided into quadrants centered on the Capitol Building, and there are as many as 131 neighborhoods. It is the 20th-most populous city in the US. Commuters from the surrounding Maryland and Virginia suburbs raise the city's daytime population to more than one million during the workweek. Washington's metropolitan area is the country's sixth-largest metropolitan area, and includes parts of Maryland, Virginia and West Virginia.