Top Rated Cockroach Control Services For Homes And Businesses In Washington DC
Miche Pest Control is a top rated, family owned and operated exterminating company that provides high quality exterminating services for cockroaches and other pests in Washington DC and the surrounding areas. Our expert technicians get rid of cockroaches from homes and businesses fast, and use preventative treatments to keep the roaches from coming back after they've been eliminated. Miche Pest Control has a 4.9 star rating and over 1,000 reviews online - give us a call today!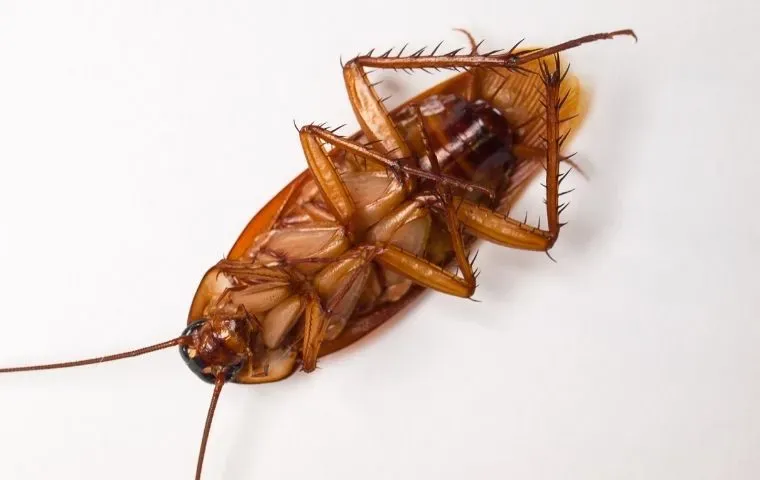 Health Hazards Cockroaches Bring To Washington DC Homeowners
Cockroaches are some of the nastiest pests in the entire world and they're also some of the most dangerous. Spending their lives scouring highly contaminated places for food, they'll pick up dangerous bacteria in dumpsters, sewers, and landfills.
Once they enter your home, they'll spread the bacteria all over your meal-preparation areas and contaminate your stored foods, possibly causing salmonella, E.coli, and more. Plus, roaches give off harmful pathogens as they move around which can lead to allergic reactions in many adults and children.
Since roaches remain hidden unless humans are out of the house, you'll never know how robust of an infestation you might actually have. Unaware, you might allow roaches to put your health at risk for months, without a proper inspection.
Once you contact us about a potential roach problem, we'll inspect the property carefully and eradicate the entire infestation before shifting our focus to perimeter defense. With our recurring quarterly services, our traditional and organic pest control methods will create a barrier around your home that we can put our roach-free guarantee behind. If you notice problems between treatments, we'll come back for free. Give us a call for a free quote on roach eradication and prevention.
Get Cockroach Control In Washington DC
What To Do About Cockroaches In Washington DC
When roaches invade your DC home, they'll not only create a very uncomfortable environment, but they'll also spread dangerous bacteria all over the place. Since they spend most of their lives searching for food in highly contaminated areas, they'll carry harmful bacteria anywhere they go. Roach infestations have been known to lead to all kinds of dangerous diseases like salmonella, E. coli, and more.
Plus, since roaches are afraid of both light and humans, it can be incredibly difficult to get an understanding of how robust the infestation is. Instead of dealing with one roach at a time and allowing the health risks to linger, allow our Miche Pest Control professionals to perform an inspection to gauge the severity of the problem.
We'll then eradicate any roaches that exist within your home before spraying the outside of the house with our preventative solutions. With innovative organic and traditional solutions, we can customize a pest control plan that's right for you. Our quarterly treatments include free re-treatment in the event of a roach problem in between visits, so you'll always be covered with Miche Pest Control on your side. Call us today for a free quote on roach control.
Request Your Free Quote
Complete the form below to request your no obligation quote.
Washington DC
Washington DC, formally the District of Columbia and also known as DC or just Washington, is the capital city of the United States of America. It is located on the Potomac River bordering Maryland and Virginia, with Congress holding its first session there in 1800. The city was named for George Washington, the first president of the United States and a Founding Father, and the federal district is named after Columbia, a female personification of the nation. As the seat of the US federal government and several international organizations, the city is an important world political capital. It is one of the most visited cities in the US, with over 20 million visitors in 2016.
The US Constitution provided for a federal district under the exclusive jurisdiction of US Congress; the district is therefore not a part of any U.S. state. The signing of the Residence Act on July 16, 1790, approved the creation of a capital district located along the Potomac River near the country's East Coast. The City of Washington was founded in 1791 to serve as the national capital. In 1801, the land, formerly part of Maryland and Virginia (including the settlements of Georgetown and Alexandria), officially became recognized as the federal district. In 1846, Congress returned the land originally ceded by Virginia, including the city of Alexandria; in 1871, it created a single municipal government for the remaining portion of the district.
The city is divided into quadrants centered on the Capitol Building, and there are as many as 131 neighborhoods. It is the 20th-most populous city in the US. Commuters from the surrounding Maryland and Virginia suburbs raise the city's daytime population to more than one million during the workweek. Washington's metropolitan area is the country's sixth-largest metropolitan area, and includes parts of Maryland, Virginia and West Virginia.