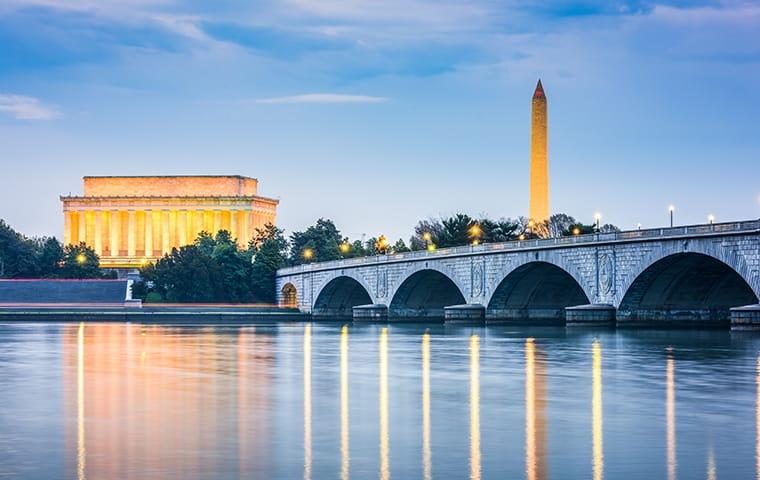 Superior Pest Control For Homes & Businesses In Washington DC
Washington DC is a well-known city for many reasons. The District of Columbia is the capital of the United States and the White House, home to the president of the United States, is located near the center of DC. Residents and tourists enjoy the historical monuments and buildings, such as the White House, Capitol, and Supreme Court. Unfortunately, our area is also home to several species of property-invading pests. If you need quality pest services and treatment options, Miche Pest Control is the pest control provider for you.
Miche Pest Control is a top rated, family owned and operated, full service pest control company that provides exterminating services for homes and businesses in Washington DC. Our expert technicians get rid of all kinds of pests: ants, spiders, mice, rats, mosquitoes, termites, and more, using comprehensive solutions to eliminate pest infestations and prevent them from coming back. With a 4.9 star rating and over 1,000 reviews online, you can trust Miche Pest Control - give us a call today!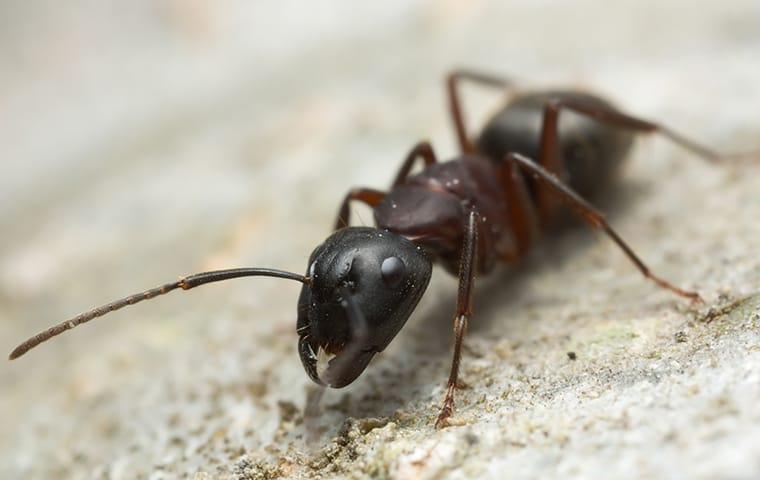 Miche Pest Control provides exterminating services for ants, spiders, wasps, crickets, and more in Washington DC and its surrounding areas. Our most popular service is our Quarterly Pest Control service. Included in each of our quarterly pest services:
Exterior Cobweb Removal
Wasp Nest Removal
4 To 6 Foot Barrier Spray Around The Foundation
Perimeter Granular Barrier/Bait
Outside Crack & Crevice Treatment
Inside Treatment As Needed
Most of our pest control customers have this service done every 3 months for year round pest protection. One of the best parts about this service is that, in addition to having at least one service per season, if you have issues with pests in between your regularly scheduled services, we'll schedule a return visit - at no additional cost!
What Everybody Who Lives In Washington DC Needs To Know About Rodents
House mice and Norway rats are the two most common rodents in Washington DC. Here are a few recommendations from the Health Department in Washington DC to limit rodent activity:
Make sure rodents are controlled during the winter to help ensure that there are fewer around to breed in the spring.
Store trash and recyclable materials in metal or heavy-duty plastic containers with tight-fitting lids.
Keep kitchens clean, and keep food stored in secure containers.
Keep yards clean so that rats and mice don't have the shelter and food necessary for breeding. This will also help deter any young rodents seeking a new home. This includes cleaning up weeds, trash piles, garbage, and pet food.
Inspect buildings carefully, especially in the early fall. Make sure there are no holes or cracks for rats and mice to gain entrance.
Actively work to reduce the food, water, and shelter that rodents need to thrive.
For professional rodent control in Washington DC, learn about Miche Pest Control's rodent control program, or call today!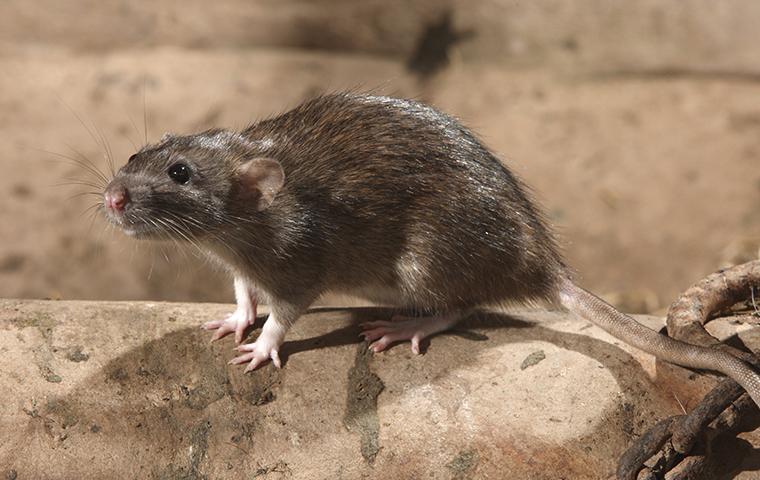 Miche Pest Control provides rodent control services for mice, rats, and voles in Washington DC and its surrounding areas. To get rid of rodents from homes and businesses in Washington DC, we take a comprehensive approach, allowing us to resolve rodent infestations quickly. Maintaining your service long term also helps prevent future issues with rats and mice. Your first rodent control service with Miche Pest Control includes:
Rodent Trapping Inside
Inspecting For Entry Points
Sealing Entry Points (Rodent Exclusion)
Installing Tamper Resistant Rodent Bait Stations Outside
After the first service, we come back to maintain the bait stations throughout the year, making sure the stations are fully loaded with fresh bait, and checking for any new rodent entry points. Most of our rodent control customers have this service done every 2 months for year round rodent protection, since rodent activity varies throughout the different seasons.
3 Tips From Washington DC's Health Department To Help Prevent Mosquitoes
The 3 most common mosquitoes in Washington DC are the common house mosquito (Culex pipiens), the Asian tiger mosquito (Aedes albopictus), and the yellow fever mosquito (Aedes aegypti). Mosquitoes become active as soon as the air temperature reaches 68 degrees. In an urban setting like in Washington DC, that means that mosquitoes can remain active throughout most, if not all, of the year. To get rid of mosquitoes, it's important to reduce standing water around your home or business - this standing water is where mosquitoes lay their eggs. Here are 3 tips from DC's Health Department to help prevent mosquitoes from breeding on your property:
Empty or throw away water-filled containers regularly.
Cover or turn over empty items that can collect water.
Clean and scrub bird baths and pet-watering dishes at least once per week.
For professional mosquito control in Washington DC, learn more about Miche Pest Control's mosquito program, or call today!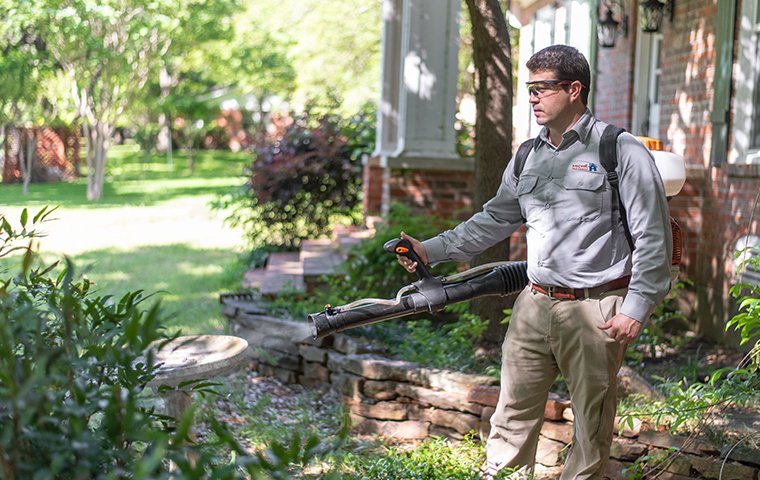 Miche Pest Control provides mosquito services in Washington DC and surrounding areas. Our goal is fast and lasting abatement of mosquitoes, so we use a combination of highly effective strategies to get rid of mosquitoes in your yard and around your home. Each mosquito service from Miche Pest Control in Washington DC includes the following:
Yard Fogging To Get Rid Of Mosquitoes Fast
Larvicide Applications To Break Pest Life Cycles
High Quality Products For Lasting Mosquito Control - Rain Or Shine!
After the first service, most of our mosquito customers have us come back every 3 to 4 weeks during the warmer months of the year for season-long mosquito control. While it can take up to a week to see the results of each treatment, if you're still having issues after that week, let us know! We'll schedule another mosquito service at no additional cost.
3 Things Washington DC Residents Should Know About Termites
You've probably heard about how destructive termites are at one point or another. But with so many old structures and wooden foundations in our historic city, termites are often a significant issue for property owners every year. In Washington DC, the most common termite species by far is the Eastern Subterranean Termite. Understanding the pest you're up against can help educate you on the problems these wood-destroying insects cause.
1. Termites are most attracted to damp or moist wood.
2. Termite infestations aren't usually discovered until severe damage has already occurred.
3. Termites cost American property owners over 5 billion dollars in damages annually.
For professional termite control in Washington DC, learn more about Miche Pest Control's termite program, or call today!
Avoiding termite damage isn't easy, especially without the protection of a termite protection plan from Miche Pest Control. We use Advance Termite Bait Stations with Trelona Compressed Termite Bait to get rid of termites and prevent them from attacking your Washington DC property. Keep termites out of your home with a termite control plan from Miche Pest Control. Included in our Annual Termite Service:
A Comprehensive, Visual Termite Inspection
Spot Treating Termite Damage & Areas With Live Termites
Installation Of Pre-Baited Advance Termite Bait Stations
After installing your termite bait stations, we come back once per year during the cooler months of the year (October to March) to maintain the stations, as well as inspect for any additional termite damage or live termites. If you have any live termites or any new termite damage, we'll supplement the bait stations by spot treating the affected areas at no additional cost.
What You Can Do To Avoid Bed Bugs In Washington DC
Bed bugs are small insects that depend on blood to survive. These tiny invaders are a growing issue throughout the United States and are more common in areas with frequent human traffic. Unfortunately, Washington DC is a compact city with a lot of people, which means bed bug infestations are quite common in our area. Bed bugs don't invade through gaps in your foundation or holes made for utilities. Instead, they climb onto clothing, bags, or furniture, and hitchhike from place to place. Bed bugs are hard to avoid, but that doesn't mean there's nothing you can do to keep them away from your property. A few ways to keep from bringing bed bugs onto your property include:
Inspecting used furniture before bringing it into your home or business.
Checking your hotel room for signs of bed bugs before staying the night.
Washing and drying clothes and bedding on the highest heat setting.
Keeping your belongings off the floor of public places such as libraries, museums, airports, and public transportation.
If you have bed bugs, suspect you have bed bugs, or are interested in proactive bed bug protection, learn more about Miche Pest Control's bed bug treatment services, or call today!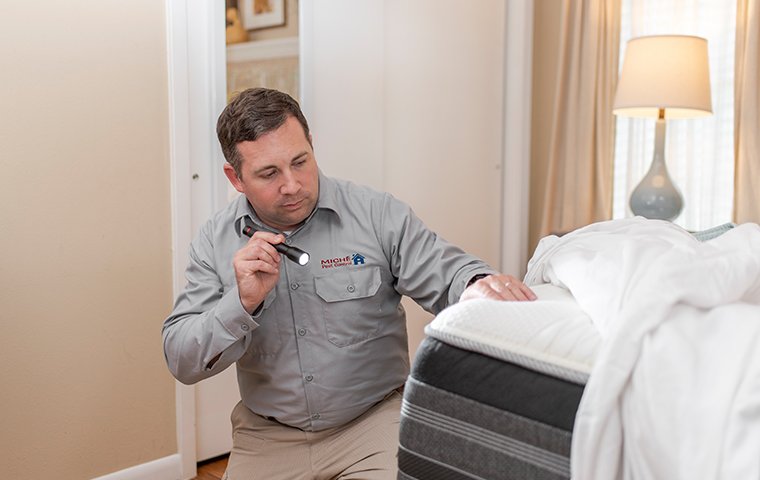 If you find yourself with a bed bug infestation on your Washington DC property, we recommend seeking professional bed bug control right away. Miche Pest Control provides professional bed bug removal services along with many other pest control options and solutions. Our bed bug treatment process is designed to get rid of bed bugs affordably and effectively, while bypassing bed bugs' known resistances to pesticides. Included in each bed bug service:
Removing live bed bugs, dead bed bugs, and their eggs & shed exoskeletons with a specialized HEPA vacuum
Applying the natural biopesticide Aprehend to key areas for bed bug treatment
Included with your first bed bug service is a 90 day, renewable warranty with quarterly bed bug treatments. Because extensive lab studies have shown that Aprehend has excellent long term activity, we have found that this is the best method for residual control of bed bugs. This is why we can warranty our bed bug services for 90 days. While each treatment can take up to 2 weeks to take full effect, if you have issues after that two weeks, let us know! We'll return and re-treat at no additional cost.
To get a quote for bed bug control in Washington DC, or to get started, reach out today!
Pest Control For Homes In Washington DC
Your home is supposed to be a place you can return to after a long day at work or attending a social event with your friends. The last thing you want to find in your Washington DC home is a pest infestation. Pests such as rodents, spiders, and ants are just a few of the common pests in our area, and they all create many issues for homes and families. The best way to prevent pests from damaging your belongings or introducing harmful bacteria and pathogens into your home is by implementing a pest control plan for your property.
Miche Pest Control is proud to offer Washington DC homeowners with industry-leading pest treatments and quality services you can trust. Avoid the frustrations and stress pests cause with a little help from our licensed pest experts. If pests return between scheduled visits, so will we, at no additional cost. Trust Miche Pest Control with your pest control needs, and never worry about finding pests in your Washington DC home again.
Pest Control For Businesses In Washington DC
The best way to protect your business in Washington DC from pests like cockroaches, rodents, ants, and more is by partnering with Miche Pest Control. Based on the needs of your business, we will implement a year-round pest control program. We understand that you have enough responsibilities to deal with - let us take care of the threat of pests invading and damaging your property, goods, and reputation. Our team of technicians have the experience, tools, and knowledge necessary to handle every pest issue, no matter the size. We implement the use of preventative and curative pest control services to ensure your business has everything necessary to remain free of pests year-round. Here are just a few of the business types we service:
Law Offices
Systems Design Offices
Consulting Firms
Restaurants & Fast Food
Doctor & Dentist Offices
Call us to learn more, or to get started on protecting your business from pests with our commercial pest service.
Request Your Free Quote
Complete the form below to request your no obligation quote.