Miche Pest Control Gets Rid Of Mosquitoes & Ticks!
"A disease threat anywhere in the world may be just a plane ride away." Dr. Tom Frieden
If you live in Washington DC, Northern Virginia, or Baltimore, you've probably encountered your fair share of mosquitoes. If your last backyard BBQ turned into a house party because a swarm of mosquitoes decided to join in on the fun, then you know just how irritating mosquitoes can be.
Ruining your time outdoors is actually not the biggest problem that mosquitoes pose. In fact, mosquitoes are considered the deadliest animal in the world due to the diseases that they spread and mosquitoes are responsible for over one million human deaths a year. Worldwide, mosquitoes are known to spread a wide variety of diseases including: malaria, West Nile virus, Zika virus, canine heartworm, yellow fever, dengue, and various forms of encephalitis, just to name a few.
Similarly, ticks are another dangerous pest that can be found in Northern Virginia, DC, and Maryland. Many people aren't as aware of the threats associated with ticks as they are with those associated with mosquitoes since the issues with ticks have only come to light in recent years, but tick-borne disease diagnoses increase in number year after year. Ticks are multiple-host parasites, and as such, can spread Lyme disease, ehrlichiosis, Powassan encephalitis, Rocky Mountain spotted fever, and tick paralysis, among others.
Our Mosquito & Tick Control Services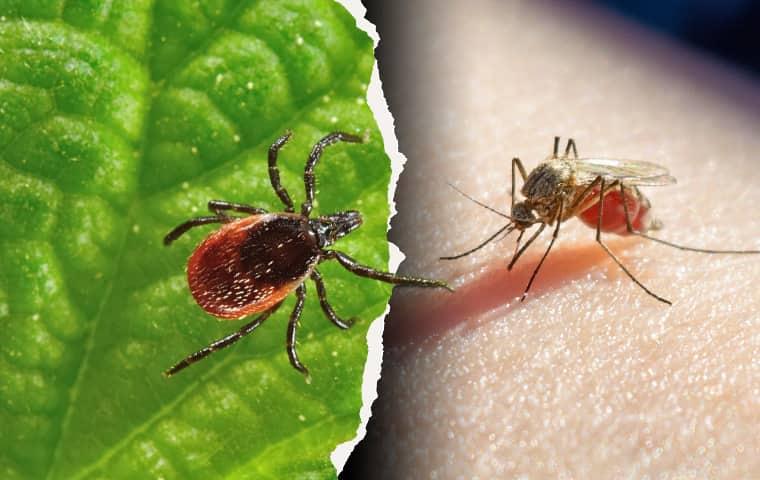 When it comes to protecting yourself and your family from these disease-spreading pests, investing in a professional mosquito and tick control plan for your home and property is essential. And that's where the pest control experts at Miche Pest Control come in! With our quality abatement services, we can protect your home and family from mosquitoes and ticks all year round.
Our Monthly Mosquito & Tick Control Plan
While our mosquito and tick control services are available for year-round protection, these services are typically performed during the warmer months of the year. We usually recommend monthly mosquito and tick control from March to October to help protect your home and family and ensure your property remains nuisance-free during the peak months for mosquito and tick activity.
Backpack Fogging. During our mosquito and tick abatement services, we'll use a professional-grade backpack fogger to treat your bushes, trees, shrubs, and the areas under your decks and sheds as well as grassy areas; anywhere adult mosquitoes like to rest. This treatment will control ticks and mosquitoes in their daytime resting areas, as well as leave a residual to take care of any that may fly in from the neighbor's yard (mosquitoes) or be carried in on wildlife (ticks).
Growth Regulator Treatment. In addition to using products that will take care of adult mosquitoes and ticks, we use growth regulators to help prevent immature forms of mosquitoes (larvae and pupae) from maturing into reproductive adult mosquitoes. The goal is to completely stop them from breeding in your yard or around your home.
Re-Service Guarantee. Because mosquitoes and ticks can easily get from one place to another, and they reproduce so quickly, sometimes it takes an extra treatment to get these outdoor pests under control. If you're still having issues in between your regular services, let us know and we'll return to re-treat at no additional charge!
Our One-Time Mosquito & Tick Treatments
In addition to our monthly mosquito and tick control service plan, we also offer one-time treatments for special occasions or outdoor events such as a neighborhood cookout, family reunion, pool party, or backyard wedding. Simply let us know when your event is, and we'll come to your property to treat 24-48 hours before your event to ensure everything goes off without a hitch! While they can be provided on an as-needed basis, these services are provided at no additional cost when you have our monthly service plan.
Don't Let Mosquitoes & Ticks Keep You From Enjoying Your Yard!
In DC, Maryland, and Northern Virginia, spring, summer, and fall are beautiful times of the year, and there's no reason that you have to stay cooped up inside, worried about the ramifications of mosquito and tick bites! Take back your yard from mosquitoes and ticks with monthly mosquito and tick control services from your team at Miche Pest Control.
If you're in need of professional mosquito and tick prevention, we can help! At Miche Pest Control, we will help protect you, your family, and your pets from the dangers of mosquitoes and ticks so you can get out and enjoy your yard. To get started with our professional mosquito and tick protection services, contact Miche Pest Control!
Request Your Free Inspection
Complete the form below to schedule your no obligation inspection.