Trusted Pest Control For Leesburg, Virginia Homes & Businesses
When you come to Leesburg, you step into a contemporary yet historic city rich with culture. You can explore the past by visiting historic landmarks and viewing classic architecture, or you can rush into the present with the vast array of entertainment and shopping options downtown. You can even bond with your community through fun and engaging festivals and car shows.

But bonding with your community is hard when you are dealing with pests at home. That's why you need a professional pest control company to protect your property from pests. Miche Pest Control is here to do exactly that.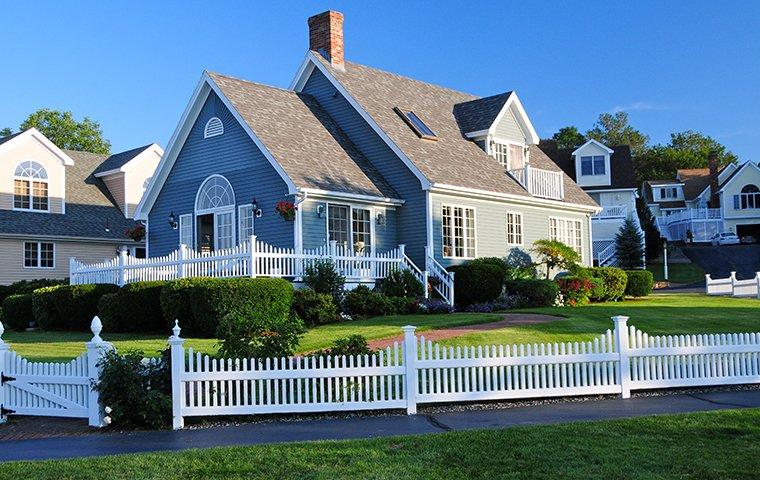 Residential Pest Control In Leesburg, VA
We want to keep Leesburg beautiful, so we do our part by keeping your home beautifully pest-free. Leesburg residents can select three service plans for the same price: quarterly, bi-monthly, and monthly. We cover dozens of pests common to the Leesburg area, and our service concentrates on the exterior to avoid disrupting your routine. Through foundation dusting and spraying, granular barrier creating, and eave sweeping, we rid your property of the most bothersome pests.

We know that ongoing service isn't everyone's cup of tea, so we also offer one-time service options. We cover rodents, termites, bed bugs, carpenter ants, and ticks and mosquitoes, and we provide a warranty for 30 days after the final treatment. If you notice that the treated-for pests are still on your property, we'll return at no extra charge and finish the job right.
Guide To Avoiding Bed Bugs In Leesburg, VA
If bed bugs make their way into your house, you're going to have a bad time. Bed bugs may be harmless (compared to more dangerous pests) but they are insanely difficult to remove once they're inside. That's why it's better to avoid them in the first place. Here are some handy tips for reducing the chance of bed bugs in your Leesburg home.

Stay aware of potential infestations in your community. Whether someone you know has bed bugs or a school your child attends has a student coming from a home with bed bugs, you want to know where the potential risks are and plan accordingly.

Take extra caution when traveling. Avoid booking hotels that have reviews about bed bugs not being dealt with properly. When you're in a hotel, keep all luggage away from the bed, and inspect the bedroom area for signs of bed bugs before settling in.

Use heat to kill potential bed bugs. If you're returning from a trip, immediately wash and dry all your clothes and other fabric items on the hottest settings. Vacuum your suitcase and empty the vacuum bag outside the home too.
Inform yourself and others about bed bug prevention. Teach your child to keep their belongings stored away from other students' belongings when at school. Learn the best cleaning practices to reduce the likelihood of bed bugs.

If you do end up with bed bugs, contact Miche Pest control to get assistance. We use three targeted treatments to break the life cycle of bed bugs and prevent them from reproducing. And we offer an extended 90-day warranty should bed bugs reappear after the final treatment. If we don't do it right the first time, we'll get it the second time, guaranteed!
Stink Bug Prevention Tips For Leesburg, VA Residents
Smell that? We call those stink bugs, and they're not a pleasant pest to have on your Leesburg home. Even though they can't hurt you, they can release a disgusting odor that'll stick around for a while. In order to keep stink bugs at bay, use these prevention tips:
Remove their hiding spots. If there's a crack, they can fit into it and stay hidden. Seal these up.

Repair any damage that creates openings. A tear in a window screen could let a stink bug inside.

Fix moisture buildup. Water attracts stink bugs.

Turn unnecessary lights off. Stink bugs will gravitate towards lit areas during the nighttime.
Stink bugs aren't fun, but Miche Pest Control can make sure they don't stink up your property. Through our service plans, you'll receive coverage for stink bugs and tons of other pests.
Why Termite Prevention Is Vital In Leesburg, VA
Think you can outlast a termite infestation? Think again! Termites cost US home and business owners over $5 billion annually. Once these little critters make their way onto your property, nothing is safe. The amount of damage they can cause is unparalleled, and you probably won't even notice the damage until it's too late. Termites are masters at staying hidden, and by the time you start seeing them, their damage will be done.

With Miche Pest Control on your side, however, you won't need to worry. We use BAAS Trelona® Advanced® bait stations to help prevent and kill termite colonies. The bait is delivered directly to the queen, whose death breaks down the colony and stops reproduction. Call Miche Pest Control today to terminate those termites!
Request Your Free Inspection
Complete the form below to schedule your no obligation inspection.