Effective Pest Management For Columbia, Maryland Property Owners
Columbia, MD is a unique planned community with 10 self-contained villages where friendly residents enjoy a peaceful quality of life. Our plentiful outdoor spaces, luxury housing options, and quality education system make Columbia a highly sought after place to live. Furthermore, if you're looking for big-city amenities, Columbia is a reasonable commute to Baltimore and Washington DC. To help maintain Columbia's reputation of being one of the best small cities to live in America, Miche Pest Control offers the pest control services needed to keep pests out of homes and businesses.
With the help of our experts at Miche Pest Control, residents and business owners can feel confident that their properties receive the services necessary to eliminate rodents, ants, termites, bed bugs, and other pests. Learn about our family-owned and locally-operated business by speaking to one of our friendly and knowledgeable professionals.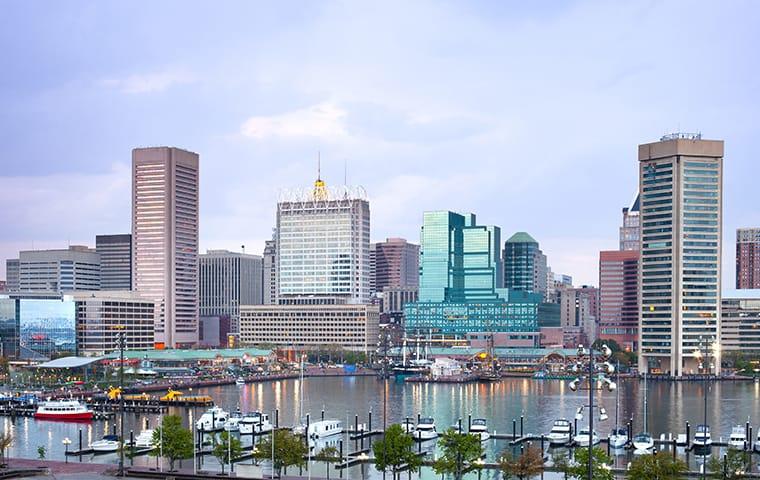 Home Pest Control In Columbia
There are many reasons why professional pest control is the best way to keep pests out of your home long-term. Most importantly, professional pest control serves as a proactive defense against unwanted pests. By partnering with an expert before you experience a noticeable pest problem, you can avoid unwanted damage and sanitary concerns that come with infestations.
Miche Pest Control is a small, locally operated, full-service company. We are a company that knows the needs of its local customers, and we offer a variety of pest control services options including general pest control plans and specialized plans to control rodents, mosquitoes and ticks, bed bugs, termites, carpenter ants, and more. We know that a one-size-fits-all mentality doesn't work in the pest control industry, so we tailor our home pest control programs to meet each of our customer's needs.
Customer service is our top priority, and we offer flexible scheduling options. We also offer a pest-free guarantee; if pests return between our scheduled service visits, we'll re-treat at no extra cost!
Commercial Pest Control In Columbia, MD
Having even one pest running, jumping, or flying through your commercial facility is a recipe for disaster. If one customer spots even the smallest pest problem, it will negatively affect your business's reputation. A long-term pest control service will help keep your business's reputation intact.
Our pest control plans have a monthly, bi-monthly, and quarterly service options to ensure that we meet your business's specific needs. We begin by performing two services about 3-5 weeks apart with the intent of breaking up the pest's life cycle and eliminating the pests currently in your commercial facility. We then create a protective barrier around your facility, through regular exterior treatments, to prevent future pest problems.
Get Rid Of Rodents Once And For All In Columbia, MD
Rodents are persistent pests that contaminate our food and chew their way through our homes or businesses. They are tenacious creatures and are difficult to eliminate for good. Unlike many other wild animals that try to stay away from people, rodents don't mind living near or with people. Our properties provide them with easy access to food, water, and shelter, thus fulfilling their basic needs. Luckily, rodents are no match for the experts at Miche Pest Control! If rodents ever find their way into your Columbia home or business, our rodent control service will get rid of the entire infestation.
Our professionals protect you and your property from rodents with the help of our rodent control service. This includes the following:
A thorough inspection.

Inside trapping to get rid of any rodents that may have found their way inside.

Removing rodent droppings and sanitizing areas throughout your property that show evidence of rodent activity.

Sealing entry points into your home or business to prevent future rodents from getting inside.

Placing and maintaining outdoor bait stations to prevent rodents from gaining access to your home or business.
Rodents are serious pests that need to be eliminated from your home or business. Work with the experts here at Miche Pest Control to ensure rodents aren't damaging your property or introducing diseases and parasites into your Columbia property.
Here's A Quick Way To Avoid Termite Damage In Columbia, MD
We can't emphasize enough how important it is to take preventative action against termites. These insects cause costly and often irreversible damage. The fastest way to begin protecting your Columbia property from termites is to pick up the phone and call Miche Pest Control. Getting rid of termites is not easy, and our professionals understand the behavior of termites so that we can stop them in their tracks.
To battle these tempestuous, hard-working pests, we use the Trelona® Advance® Termite Baiting System. Bait stations are placed in the ground around the foundation of your building. As termites forage for food, the termites find the bait stations and bring the bait back to their colony. This method effectively eliminates current termite infestations and prevents them from returning to your home or business. Learn more about our termite control service when you contact Miche Pest Control today!
Request Your Free Inspection
Complete the form below to schedule your no obligation inspection.