Trusted Pest Control For Reston, Virginia Homes & Businesses
Reston is known for being a self-contained community with ample living options and plenty of open space for commercial development and recreation. The thriving community, easy access to activities, and abundant jobs are just a few features that make Reston a unique place to live and grow in.

However, while being self-contained is doing wonders for Reston's populace, it's also making it hard to get rid of pests easily. As a family-owned and operated business, we understand the importance of keeping your home clean and free of pests. That's why we're proud to help the residents of Reston deal with even the worst pest problems.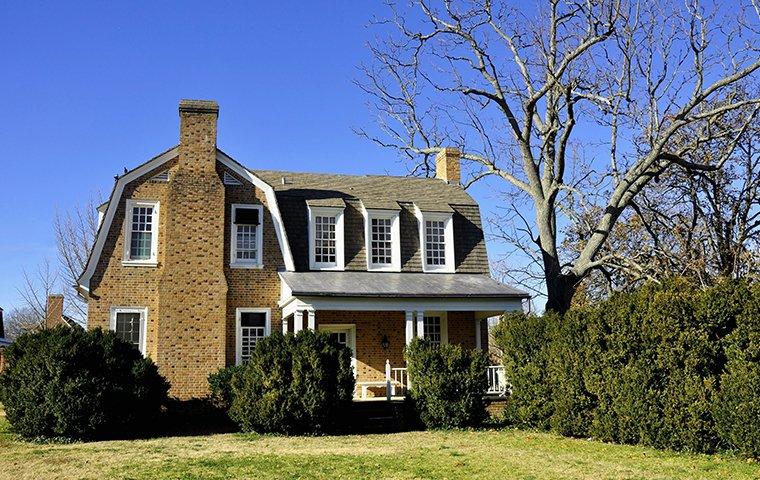 Home Pest Control In Reston, VA
What makes Miche Pest Control a unique pest control option is that we're flexible with our service plans and one-time treatments. We want to create an amazing customer experience, so we tailor our service plans to you, your schedule, and your routine. Our three service plans (quarterly, bi-monthly, and monthly) are the same price and cover fleas, ants, stinging insects, spiders (venomous and non-venomous), beetles, moths, and occasional invaders.

We also offer a variety of one-time service options for specific pests, like termites, rodents, carpenter ants, bed bugs, and mosquitoes and ticks. Both of our one-time options and service plans include a complimentary 30-day warranty, which guarantees that we'll return free of charge to get rid of any pests we missed. When you choose Miche Pest Control, you get more than just pest control – you get stellar customer service and flexibility.
Are Stink Bugs In Reston, VA Dangerous?
A stink bug may look (and smell) like a threat, but you don't need to worry about them harming you. While they might smell horrendous, they are ultimately harmless. However, that doesn't mean you want them sticking around when they start coming to your property. They still create a disgusting odor that will make for an unpleasant day. If stink bugs are overrunning your property, getting rid of them is paramount.

Miche Pest Control will help you safely get rid of stink bugs without causing a stink. They're covered under our service plans, which also cover a large variety of other pests too. On top of that, you get our pest-free guarantee, so if we don't get all the stink bugs the first time, we'll come back at no extra charge.
3 Things Reston, VA Residents Can Do To Avoid Cockroaches
Cockroaches cause a lot of problems for homeowners. Not only do they track filth wherever they roam, but they're also a huge risk to anyone who lives in the homes they inhabit. Because of how risky they are, you don't want to take any chances. Staying informed is the best way to make sure cockroaches don't endanger you or your family.

Cockroaches collect bacteria from many sources, and you could be exposed to that bacteria through direct contact, droppings, shed skins, dead roach bodies, or even just being near them. Cockroaches can live for a long time without food, but not water. When there are higher moisture concentrations, cockroaches are more likely to appear. While food still attracts them, they'll seek out areas where water is readily accessible, like kitchens and bathrooms.

Cockroaches eat anything. If it's organic, a cockroach will eat it. They're even known to eat their own droppings! Any pest willing to go that far will be attracted to even a single crumb in your home. If you try to stop a cockroach infestation by yourself, you are unlikely to succeed. Our licensed technicians are well-trained in using the most effective cockroach eradication options to protect you from their disease-spreading wrath. Let them handle those roaches instead.
Did You Know That Termite Damage In Reston, VA Can Be Avoided?
Termites are incredibly dangerous to your Reston home. As they eat away at the wood, glue, plastic, paper, and drywall in your home, they're siphoning money out of your pocket. Studies show that termites cause an average of $3 thousand dollars per year for each home they invade. That adds up to $5 billion per year overall!

The best way to avoid widespread termite damage is to pay close attention and notice the signs before they get worse. If you need help, Miche Pest Control can identify potential issues through our inspection. If we find evidence of termites, we can perform a one-time treatment using the BAAS Trelona® Advanced® bait stations.

After we install the bait systems, we can perform checkups on them monthly, quarterly, or annually. And, as always, you'll receive our 30-day warranty with our treatment. We'll return immediately if you find evidence of termites on your property after our treatments. Take out the termites today by reaching out to Miche Pest Control today!
Request Your Free Inspection
Complete the form below to schedule your no obligation inspection.